2019 Wrap Up: A Look Back Before We Move Forward.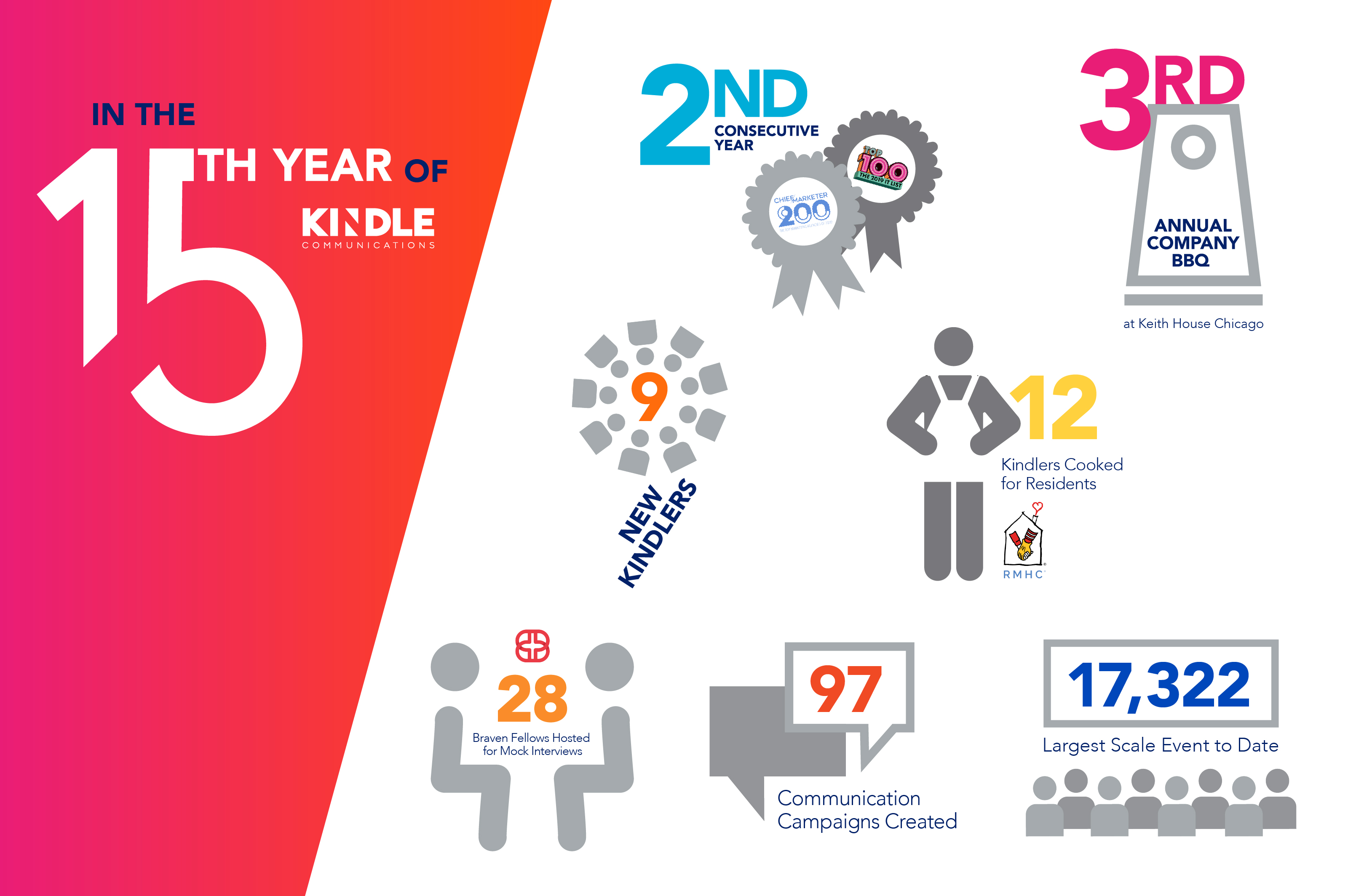 As 2019 comes to a close we find ourselves reminiscing on new experiences we've shared this year, accolades we've been granted and how much this team has grown. Before we look ahead, we wanted to look back on some of the moments we were most proud of:
Humble Brag
For the second consecutive year, we were proud to be included in Chief Marketer's list of the Top 200 Marketing Agencies of 2019. We were also recognized as one of the top 100 event and experiential agencies on Event Marketer's It List. With both publications being two of the most reputable in the industry, we were greatly honored to be listed among the best.
Kin Appreciation
Our third annual company picnic at the beautiful and historic Keith House Chicago brought together all of our employees and their families for a fun-filled afternoon outside of the office. A bags tournament brought out the competitor in everyone and offered great entertainment for spectators and participants.
Giving Back
With a greater push to give back to the community together, we had the opportunity to be involved with multiple organizations this year. Braven and Kindle became fast friends as we were immediately struck by their mission to mentor first-generation college students from underprivileged neighborhoods in greater Chicago. From sponsoring the mock interviews at their first annual Braven Summit to hosting 28 fellows at our office for a mock interview night, we grew from the experiences had with Braven this year and look forward to our continued partnership. Among other local organizations we supported this year, 12 Kindlers made dinner for the residents of the local Ronald McDonald House. Giving back together has strengthened our bond and both of these experiences landed at the top of the list of most memorable for the year.
Welcoming New Kin
The Kindle team added nine new people to our roster in business development, account management, marketing, production and design. Our work gets stronger with every addition and allows us to create even greater experiences and campaigns together. Speaking of, this year boasted a grand total of 97 communication campaigns and our largest scale event holding strong at 17,322 attendees!
You can see there is certainly plenty to be celebrated but our sights are set on a 2020 that's even bigger and brighter. Cheers to a spectacular 2019 and kicking off 2020 with a clear strategy and vision for our Kin and clients alike!