4 Ways Content Can Amplify Your Event Marketing Efforts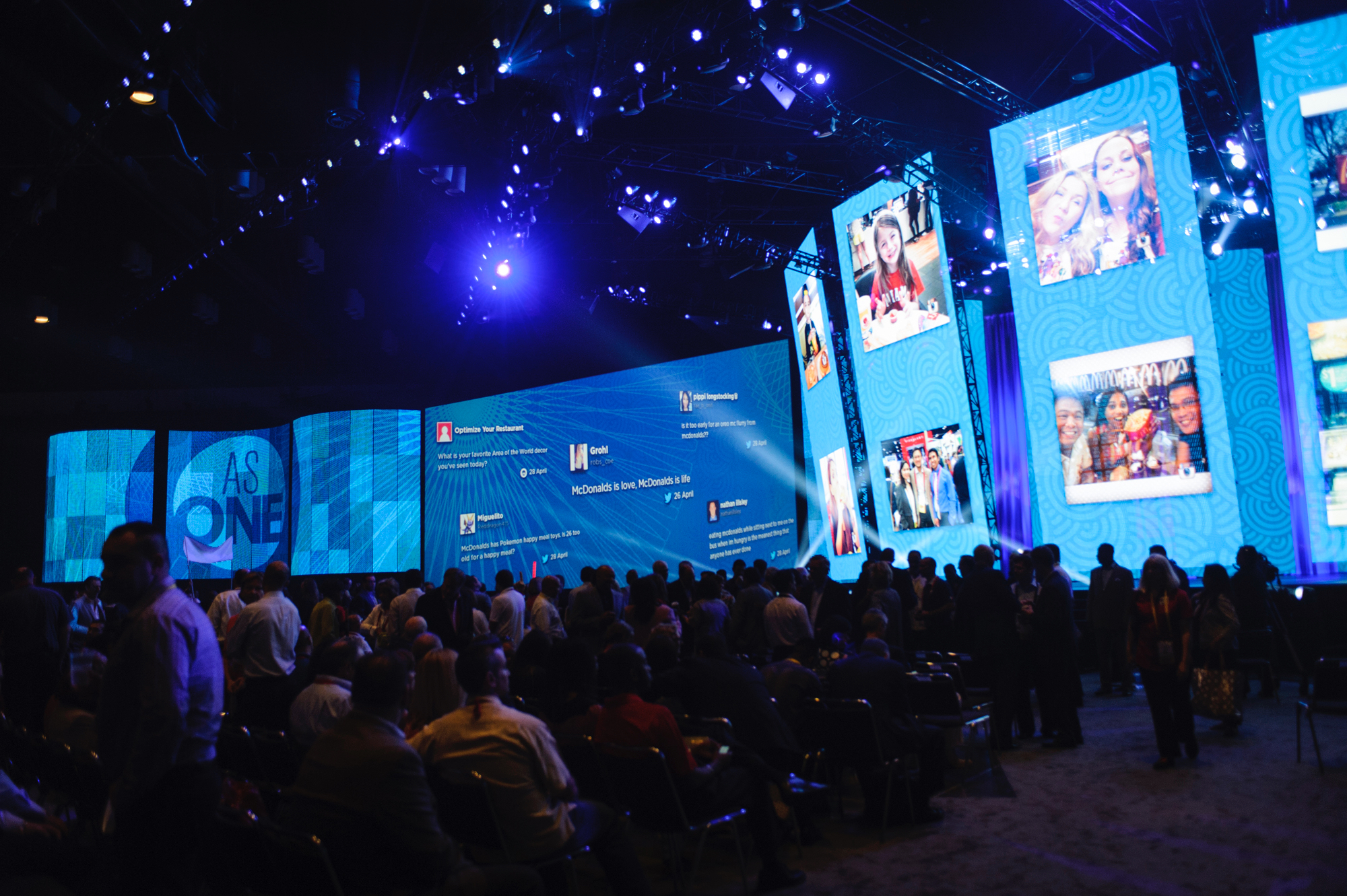 A successful event is one that engages audience members in the moment, inspires them to take action, and sticks with them long after they walk out the doors. Leveraging purposeful content to market your event before, during, and after it takes place can do just that.
Case in point: Who would have thought anyone would be talking about the 2014 Oscars outside of March 2014? Ellen DeGeneres' selfie-heard-round-the-world tweet proves just how much mileage even one great piece of content can add to an event.
Unfortunately, leveraging content to market your events isn't quite as easy as snapping a celebrity-filled selfie. If you have a corporate event coming up, amplify your attendee experience through content by keeping these four event marketing strategies in mind:
1. Know your audience.
Before you can start creating or even scheduling content, you need to map out your key audiences. Every business should have an understanding of its target audience that comes from a bank of gathered data or from marketing efforts. If you host a yearly event, for example, you naturally collect data about this audience through registration, agenda builders, surveys, on-site behavior, live conversations, and more. Collect that data from your audience, then use it to draw out insights that can inform your efforts.
The most helpful content you can create is content that answers questions from your target audience. Engage with them on- and offline to find out what they're saying, then set out to address the challenges they face through thoughtful, timely thought leadership. IKEA did just that with a humorous video encouraging viewers to submit questions — and responded to every comment it received.
If there's a particular topic that always draws a large audience at your events, use that topic in post-event follow-ups to continue to engage your audience. The better you get at this listen-and-respond content creation, the more you'll position your brand as a valuable resource and subject matter expert. If you target a number of audiences, ensure you create suitable content for each group that maintains the proper tone for each one.
2. Go all-out with personalization.
Customized content creates excitement and drives user engagement while allowing you to showcase thought leadership and share insights. The best way to position your content is to make it digestible and personalized to your audience. Never generalize with content; ensure it speaks to a specific audience or need.
For instance, if you're able to track which sessions an event participant attends, you can develop blog posts that offer new information about that topic to send as a follow-up email after the event, continuing the conversation. Every software, app, and website should contain a reporting platform — an internal analytics dashboard, Google Analytics, or something similar. Use these tools to gauge online activity as well.
When you track user visits with your event app or software, you can then provide additional content suggestions on the basis of past behavior. Use demographic data to segment your attendees into buckets — think returning guests, first-time attendees, or members of different departments — and create content targeted toward those groups. Amazon is a great example here, as the company is a personalization powerhouse. It uses the mountains of data it has about customers to personalize everything from emails to offers and even its homepage. The company's success goes to show that the more specific you can make your content, the more relevant it will feel.
3. Deliver content in an authentic voice.
Readers can identify inauthentic messaging as soon as they encounter it. Your voice and brand should reflect who you are as a company as well as what resonates with your target audience. Test out different tones of voice or content styles to see which combinations receive the most engagement. Dollar Shave Club has got its brand voice down: The company's edgy and witty content hits all the right notes with current and potential customers.
You can also simply engage in conversations with your target audience to identify ways they speak, their interests, ways they like to consume content, and more. The more data you can collect, the better. Use that data to develop a brand voice and guidelines that you can pass along to your content developers.
With it, they can implement a unified, authentic voice across all your content, emphasizing your brand's single personality. Event attendees will likely respond better to a unified voice, feeling as if it's coming from an individual. According to CMI and MarketingProfs research, 88% of content marketers in the B2B space believe creating authentic content builds trust and credibility
4. Push out event content regularly.
Consistent content delivery is the key to maintaining your credibility, providing event longevity, and nurturing the connection with your target audience. Creating an editorial calendar can help you avoid a slowdown that could put your reputation and user experience in jeopardy.
Start with building a quarterly content calendar. From there, you can lightly project the content you might create three months at a time. Leave room to be flexible and reactive to the ways your content is performing. Consider creating four to five blog posts per month, and keep the emails to a manageable rate. Send only purposeful and resourceful emails, and you'll keep subscribers engaged.
You don't need special software to create a content calendar — even a spreadsheet will do the trick. Schedule posts, emails, and other content drops in a cohesive manner that supports your overall messaging strategy. If you know your attendees always struggle to bring key learnings from an event back to their home team, for example, release a blog post a week after the event that provides key takeaways. It's timely, resourceful, and supports your audience's needs.
Purposeful Content in Action
Using these strategies will help you create purposeful content that can extend the messaging you aim to implement in your event. Our team put these event marketing strategies in action during our work on the 2018 McDonald's Worldwide Convention. We transformed the digital aspects of the global gathering into customizable platforms. The goal wasn't to simply create pre-event promotion but to magnify the user experience around the event. And we used plenty of content to make it happen.
The result was a responsive, socially driven website and app that allowed attendees to curate agendas, access additional information based on favorite sessions, and connect with other users. A post-event takeaway tool also made session content available on-demand.
Infusing the event with content allowed each conference participant to personalize his or her experience. As a result, the McDonald's conference attendees were left with memorable moments and relevant resources linked to the brand.
Using content marketing in conjunction with your next event will allow you to similarly showcase your thought leadership and insights. Authentic content that answers questions will not only help create excitement for your event, but also drive engagement and help your event live far beyond the execution days.