Kindle Named #9 on Crain's 2020 Best Places to Work in Chicago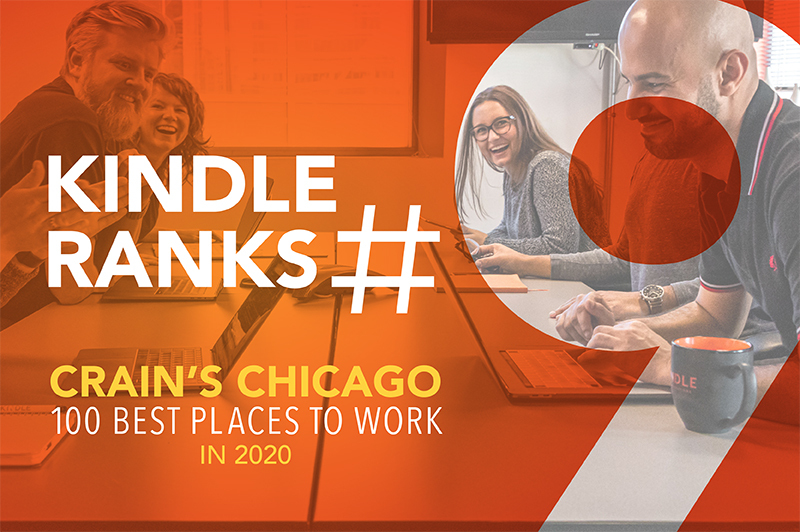 Chicago, IL (August 10, 2020) – Kindle Communications, a Chicago-based live events agency, was recognized among the top 10 of 100 Crain's 2020 Best Places to Work in Chicago. The award program, which surveys hundreds of employees across Chicagoland, identifies and recognizes the Chicago area's best employers and provides organizations with valuable employee feedback.
"Cultivating a positive workplace culture and an environment that people truly enjoy coming to everyday is extremely important to us," says Michelle Falknor, Partner at Kindle Communications. "Our employees' fulfillment and desire to contribute to our success is paramount to our business growth. Being acknowledged on this list reflects that sentiment and we're honored to be recognized in this category."
Determining the companies on the list involved an in-depth, two-step process. Each participating company was first evaluated on its policies, practices and demographics, worth approximately 25 percent of the total evaluation. Employees were then surveyed, assessing their experiences and attitudes with respect to their workplace. The combination of the two determines the best companies and the final ranking.
Since its inception, Kindle has prioritized employee satisfaction and providing comprehensive benefits, including ample PTO, 401(k) matching, profit sharing, competitive pay, work from home opportunities, company outings, continued education, career advancement and more. Its focus on culture has become even more apparent in today's current environment, where the office has recently deployed a work from home policy until further notice. Even during this time, employees have remained connected and engaged–frequently conversing and sharing updates on Slack–and finding opportunities to have fun virtually during this uncertain time.
See the full ranking of Crain's 100 Best Places to Work in Chicago here.
About Kindle Communications
Kindle is a live events agency that creates communications and experiences that do more than engage – they ignite. Our expansive communication expertise and deep knowledge of our clients' businesses give us a leading edge in blazing new trails, driving real results and delivering lasting impact.
About Crain's Chicago Business
Crain's Chicago Business is the top source of news, analysis, and information on business in metropolitan Chicago for decision-makers in the private and public sectors. Crain's Chicago Business is the leading source of information on Chicago's economy, the companies, industries and institutions that operate here and the entrepreneurs and innovators who drive the city's growth.