McDonald's & Disney: A PR Event to Relaunch the Iconic Happy Meal Partnership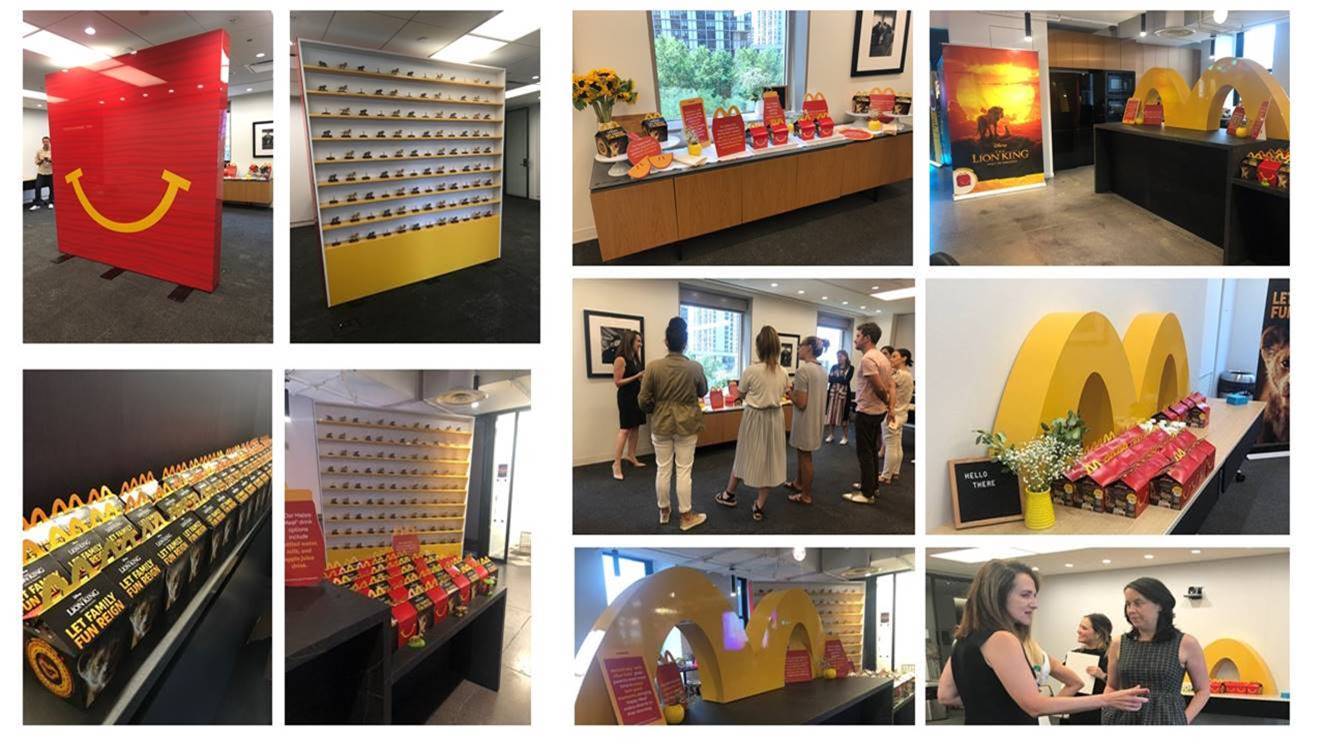 The name "McDonald's" is synonymous with "Happy Meal." Seeing the golden arches inevitably elicits a wave of childhood memories, crossing our fingers to get the toy we've been wanting and the excitement of finding one of our favorite Disney characters inside that iconic box. Recently, our clients at Agency123 – McDonald's in house agency – decided to lean into this memorable connection and deliver a PR event that promoted the future of their brand and highlighted the company's partnership between the Happy Meal and Disney.
Background
In early July, McDonald's hosted two national media events to drive conversation and awareness of their Happy Meal partnership with Disney and their "Happy Together" platform. Leveraging the attention around the newly released Lion King movie, the goal of the event was to garner targeted online media placements and conversation, while building relationships ahead of their upcoming Happy Meal initiatives.
Challenge
Kindle was tasked with the event's production – collaborating with Golin, McDonald's PR agency, to transport publishing houses into a highly-visual and interactive experience to raise excitement for the Happy Meal partnership and create share-worthy moments. The event targeted social editors from eight to 10 parenting, lifestyle and food outlets with an affinity for Disney. Given this audience, the location had to be attractive for editors and capable of being transformed to highlight the "Happy Together" platform, which is where Kindle worked its magic. In strategizing how to highlight the brand experientially, we identified memorable brand assets and developed an engaging environment that would best connect the McDonald's brand with their target press audience.
Execution
In response, both Meredith Corporation and Bustle Publishing hosted open house-style events to celebrate the summer Disney window. Audience members sampled personalized Happy Meals and were gifted with unreleased toys, providing a nostalgic moment within the Happy Meal experience. The environment, which Kindle produced in a month's time, featured a life-size, custom-branded Happy Meal box and a giant wall built of Lion King toys – serving as a photo backdrop for "instagrammable" moments.
Results
The pop-up event was a success, with an attendance of more than 160 editors from more than 20 combined outlets across all audience segments. What's more, the media response was overwhelmingly positive.
"I'm so glad I stopped down – these Lion King toys are awesome," said Claire Sullivan, Martha Stewart Living.
And Jasmine Phillips from Shape.com commented: "This is literally the best day of my life. I love McDonald's. I love the Lion King…this can't get any better."
Along with verbalized enthusiasm for the experience, the event also allowed an extended audience to engage with the experience online. Editors at the event captured moments and utilized Instagram Stories to bring the event to their followers, showcasing the toys, tagging McDonald's and even asking their followers which toy they should pick out. The event generated more than 15 owned social posts, all from top-tier editors.
The audience was brought into an immersive experience, enticing them to capture content for social media from beginning to end. Through a calculated strategy utilizing iconic brand assets while being mindful of the overall goals, we were able to incite social conversation and excitement for the Happy Together platform. Goes to show, high-quality experiences can be as simple as making everyone feel like a kid again.