Experiential Marketing Trends to Captivate Your Audience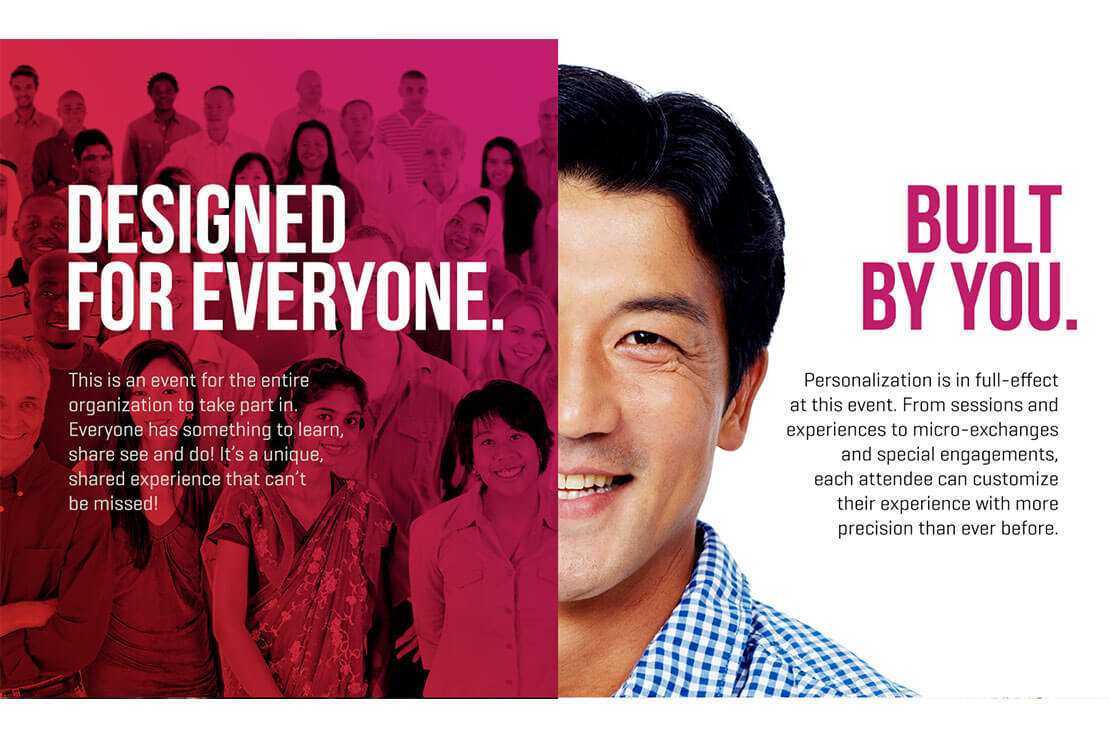 Live events are evolving. They're more about giving people something to share with others than just entertaining them in the moment. A few experiential marketing trends are driving that shift, and they, in turn, are driven by what audiences expect.
For example, people favor images over written content on social media. According to BuzzSumo, photos generate as much as 2.3 times more engagement on Facebook, especially those that make it easy for viewers to visualize interacting with a product.
A similar concept now dominates meetings and events industry trends. People want to add their voices to the experience, not just witness it. They're sharing their thoughts and feelings on social media, and they expect to have those same opportunities at live events.
Personalizing meetings and events enough to give them that opportunity means abandoning certain practices and embracing new ones. Instead of just talking at your audience, you'll have to reshape the experience to create personal, shareable moments for every audience member.
4 Experiential Marketing Trends Worth Following
If your message isn't relatable and communicated effectively to the audience, it can't really be considered a successful event. The goal is to forge connections and share an important message.
These four event trends paint a picture of what audiences will expect from events in 2019 and what you'll need to focus on to turn your next event into an experience:
1. Instant accessibility
The most important part of experiential marketing is, of course, the overall experience, and that begins as soon as people are notified about the event. How accessible is information like location, dates, and times? Does the audience have time to plan for it, or are they learning about it on the same day that the event takes place?
During the event, make it easy for the audience to capture plenty of images to share. Make attendees the stars of the show by providing opportunities like pop-ups for them to stage fun and interesting Instagram shots. It shouldn't be difficult for them to make many elements of the day or week their moment.
2. Easy digestibility
The digestibility of content is another important trend that should shape the event experience. A picture really is worth a thousand words, and your audience would rather share selfies or short tweets than write a synopsis of their evening. The more people who do so, the more lasting the impact of the event will be.
Make it easy for attendees to share the event and put themselves in the spotlight. Tie everyone's experience together by creating a user-friendly platform to collect posts.
3. Audience participation
Convenience and social media appeal are essential, but they only work if the event and message are relevant. If the whole event is just speakers on a stage, the audience can't relate or engage, much less have their moment to shine. One of the biggest event trends today is to abolish that model and let audience members speak and hear from their peers.
If the audience gets the chance to speak, then the pictures and videos they share are of their own moments, not just your brand's event. By tying everyone's experience together with an event page and series of hashtags, you also benefit from a much larger pool of in-the-moment feedback from every post.
4. Live personalization
Personalization has always been at the heart of marketing, but how do you turn a single live event into a personal experience for every single audience member? Adidas accomplished this by giving marathon runners cameras to record their journeys. The 30,000 personal videos this campaign generated put the spotlight on every single participant.
You don't have to host a marathon or invest in 30,000 GoPros, but you should create events centered on your audience's interests. Know your audience. Give them opportunities to speak and participate, and provide the means to share their experiences. In a survey by Accenture, that type of personalization is why nearly 43 percent of consumers choose one brand over another.
For any brand to thrive today, it has to have advocates within its audience. That means connecting with them on a personal level by creating events truly for them, and not just for them to attend. Whatever the industry, these four emerging event trends should drive the strategies you employ when planning your next meeting or event.