Spotlight On: McDonald's 2016 Worldwide Convention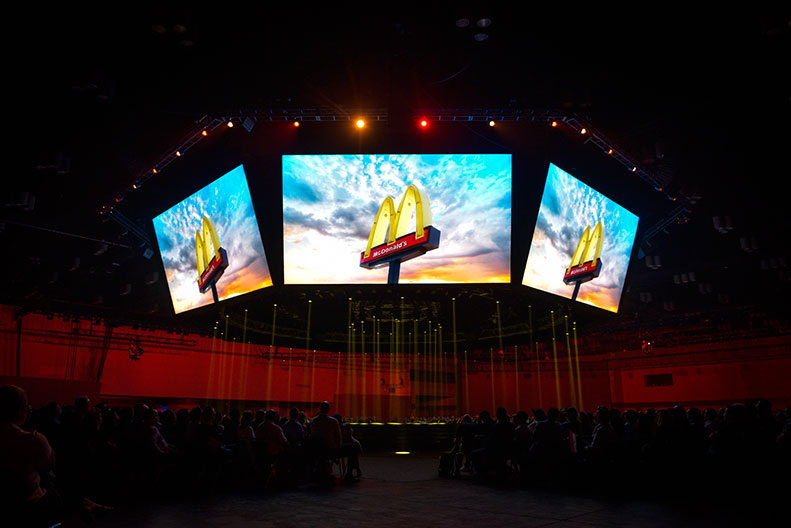 In the 20 years that Kindle has partnered with McDonald's to produce their biennial Worldwide Convention, we've helped them get down to business in some truly transformative ways. Powerful multi-screen media, transparent messaging and a live experience unlike any other have kept their diverse global audience of 13,000 returning again and again.
2016 took things to a whole other level. Featuring a new global leadership team and the introduction of a revolutionary customer-centric vision for the future, this year's Convention got personal. Read on to find out how.
One Message, Center Stage
Central to the experience was the design of the global session environment. For the first time, the McDonald's / Kindle team conceived a more intimate "theater in the round" approach. This not only brought the audience physically closer to the presenters, it also enhanced their connection to the strategic and inspiring messages being shared. Kindle worked hand-in-hand with McDonald's editorial team to assure each speaker's individual priorities reinforced the cumulative messaging – so all of the presentations contributed to one evolving and consistent "conversation."
Delivering a Customized Experience
To begin engaging the audience in the months leading up to the event, McDonald's worked with Kindle to develop a custom mobile-ready website and app. Here, visitors could identify their personal priorities and have original content recommended based on those priorities. At the Convention, each day had a single, well-defined theme which was then brought to life across a wide range of elements, including leadership presentations, targeted panel discussions and through booth experiences on the exhibit floor. Theme-based content was also available via digital applications through on-demand session streams, written articles, video recaps and more – all designed with both the live and virtual attendee in mind.
A Truly Integrated Partnership
Kindle collaborated closely with McDonald's to ensure the central messaging was aligned across every communication channel. Working hand-in-hand with their communicators, we crafted live presentation content with both impact and sustenance. On-site, our creative teams sought out and captured all the action taking place, then developed a variety of written, media-rich and visual stories that were presented to attendees as quick hits they wouldn't forget.
The result? A productive and immersive week that left attendees with a clear vision of the path forward for the entire McDonald's system, and an equally clear idea of their individual role in achieving this vision.