Paving the Path for the Next Generation: Braven Chicago Summit 2019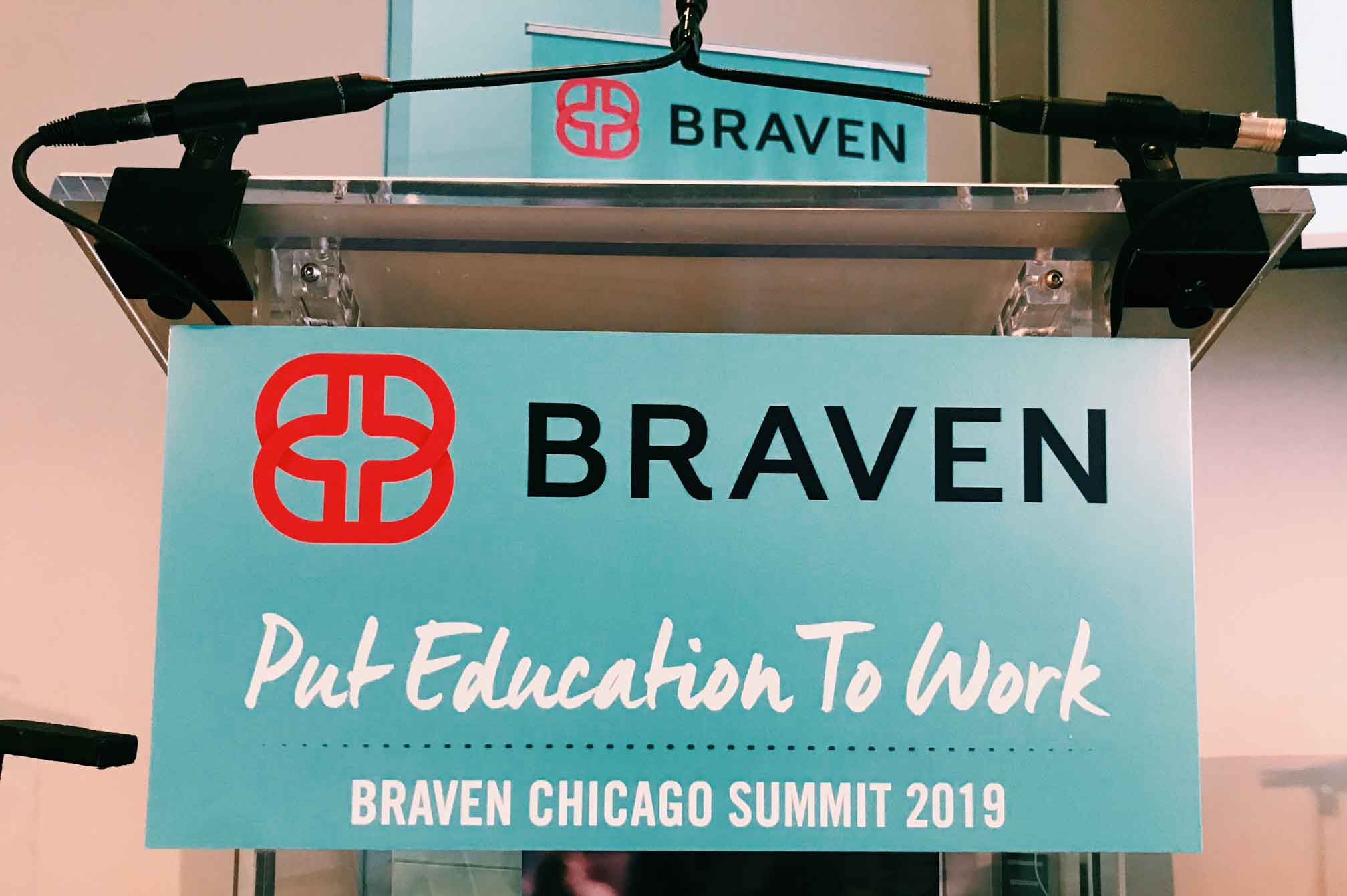 With a more prominent focus on Diversity & Inclusion (D&I) and community engagement, Kindle recently joined a growing list of proud sponsors of Braven Chicago. Braven's mission is to empower promising, underrepresented young people—first-generation college students, students from low-income backgrounds and students of color—with the skills, confidence, experience and networks necessary to transition from college to strong first jobs, which lead to meaningful careers and lives of impact.
At Kindle, we're dedicated to helping our clients and Kin strengthen their communication, community and collaboration, built on a cultural foundation like no other. Whether it's sharing an important cause, an idea during a brainstorm or telling a story around the campfire, each of our Kin is encouraged to participate with passion. We challenge our teams to explore the latest trends, technologies and more to not only unlock greater potential for our clients, but for ourselves.
Given our joint commitment to increase awareness of our industry and build a stronger, more diverse workforce in Chicago, it was a no-brainer for us to partner with Braven. Whether we are sponsoring an event or contributing our time and expertise, Kindle is committed to supporting the experience and advancement of Braven's Fellows.
A few Kindlers recently attended the inaugural Braven Chicago Summit, where we learned ways in which we can help this talented demographic prepare for the future and the importance of the college-to-career transition for our city's economic and civic health.
"There are things you're taught and then there are things you learn. A lot of what college comes down to is not what happens in the classroom. It's about navigating life and building relationships." – Rick Settersten
Our next generation of leaders, Gen Z (born 1995-2010), will emerge from everywhere, and will continue to transform the future workplace (more so than Millennials). They have only experienced a high-tech, hyper-connected world, where information is at their fingertips, a Google search away. Because of this, Gen Z will bring a new set of behaviors, expectations and preferences into the workplace.
How can we—Millennials/Gen Y, Gen X, Baby Boomers—help them navigate into their first job after college (and beyond)?
Generations are shaped by the context in which they emerged, which includes socioeconomic status. For first-gen college students, this can mean that they enter (and graduate from) college without the knowledge, access and network as some of their peers from more affluent backgrounds.
This is where Braven comes in—their scalable model provides a solution that is embedded within higher education and beyond, partnering with innovative universities and companies to help navigate these promising students into the workforce through programs centered around building soft skills, confidence, experience and networks.
The opening plenary panel at the Summit shared a few ways in which companies can expand their diversity footprint for Gen Z:
Change how you hire and stop looking for that needle in the haystack. Take a chance on that applicant who may not be "perfect" on paper, but who demonstrates a strong character, an openness to learning, cognitive thinking and authenticity.
Take a hard look at your current cultural landscape, identifying opportunities to diversify—is it the pipeline that you've been using or your network that feeds the pipeline that's the problem?
Brainstorm ways, WITH your people, to create a more inclusive workplace. From both a generational and company tenure perspective, are there opportunities to create initiatives like a reverse mentoring program? Yes, there may be vast differences in how generations think and approach work; and, we can all learn from each other. Employee voice will drive positive changes, supported by leadership who is open-minded and committed.
"Change the paradigm of how you relate to people; develop leaders for both their careers and for their communities." – Christine Cruzvergara
We ended the day, joined by several Kin, conducting mock interviews with a select group of Braven Fellows. We helped them practice their elevator pitch, interview skills and overall confidence as they work toward landing an internship in their area of interest. Speaking on behalf of all Kin, we were blown away by the enthusiasm, work ethic and tenacity of every Fellow. Our experience also elevated additional opportunities to continue our partnership to help Braven's Fellows thrive in their professional careers.
Not only does D&I drive company performance and enhance innovation, it is also instrumental in the recruitment and retention of next-generation talent. Join us in providing a systemic solution—within and across today's workplace—to fuel a generation of leaders as diverse as our future demands.